A Comprehensive Guide to the SF312 Form
April 3, 2023
The SF312 is a form that needs to be filled out and signed by all personnel who work with classified information.
A SF312 is a classified information nondisclosure agreement. This form serves as an authorization for them to view such sensitive materials, and it establishes the security clearance necessary for such access.
Even if you are just starting out in the world of classified information, it's important to be familiar with this form and what it entails.
What Is a SF312 Form?
The SF312 is a classified information nondisclosure agreement between two parties – the employee or contractor accessing the classified information and their employer or contracting agency.
In August 2, 1995 executive order 12968 was placed with the sole purpose to establish a unified personnel security program for any person who requires access or even possibly require access to classified information. Thus the classified information nondisclosure agreement came to be.
It outlines the responsibilities of both parties, including the restrictions placed on how the employee can use the information they receive and now have access to classified information. It also states that any breach of security protocols will result in disciplinary action and subject to possible criminal prosecution.
In addition, it outlines procedures for handling classified material, such as safeguarding documents containing confidential data, using secure communication systems when discussing sensitive topics, and reporting any suspected breaches in security protocol to one's superior immediately.
How Do I Fill Out A Classified Information Nondisclosure Agreement?
The first step in filling out a SF312 form is obtaining it from your employer or contracting agency. You'll need to provide proof of identification such as your driver's license or passport before being allowed to access any forms related to classified information.
Once you have obtained a copy of the form, you need to read through it carefully; make sure you understand all of its provisions before signing it!
After reading through it, answer all questions truthfully and thoroughly; this includes providing contact details for two references who can vouch for your integrity when handling confidential materials.
Once completed, sign the form in front of a notary public or other official witness who can verify your identity and signature on the document.
Why Is Completing a SF312 Important?
Completing this form is incredibly important because it helps protect both parties involved in accessing sensitive data – employers, contractors, and employees alike!
Not only does it establish clear boundaries between those who handle confidential materials and those who do not but also establishes legal repercussions should anyone fail to adhere to those boundaries.
It helps ensure that everyone involved remains informed about their responsibilities when working with valuable data sets while protecting both their individual reputations as well as their employers'.
Typically during training, an SF312 is part of the new employment paperwork.
How Does It Affect Employees?
The SF312 is designed to protect both the employee and the employer from potential legal issues related to classified information being leaked or shared with unauthorized parties.
By signing this agreement, employees are agreeing to not share sensitive information and keep all information secure at all times, regardless of whether they are on or off duty.
This means that employees must take extra care when handling documents containing sensitive data—even something as seemingly innocuous as forwarding an email could potentially result in serious legal repercussions if done without authorization from their supervisor or other authorized personnel within their organization.
In remote work situations, it's even more important to keep anything official secure.
In most cases if you work for an official government organization you don't work from home often, but if you do make sure to only use secure websites and keep access to classified information to a minimum. Do not click links in an email before you review the source.
You also want to make sure that you don't let anyone access the computer that belongs to the company you work for.
You must lock your computer with a password when it's not in use. It's expected that you're safely connected and only following the agency needs. You also want to ensure that your office is secured.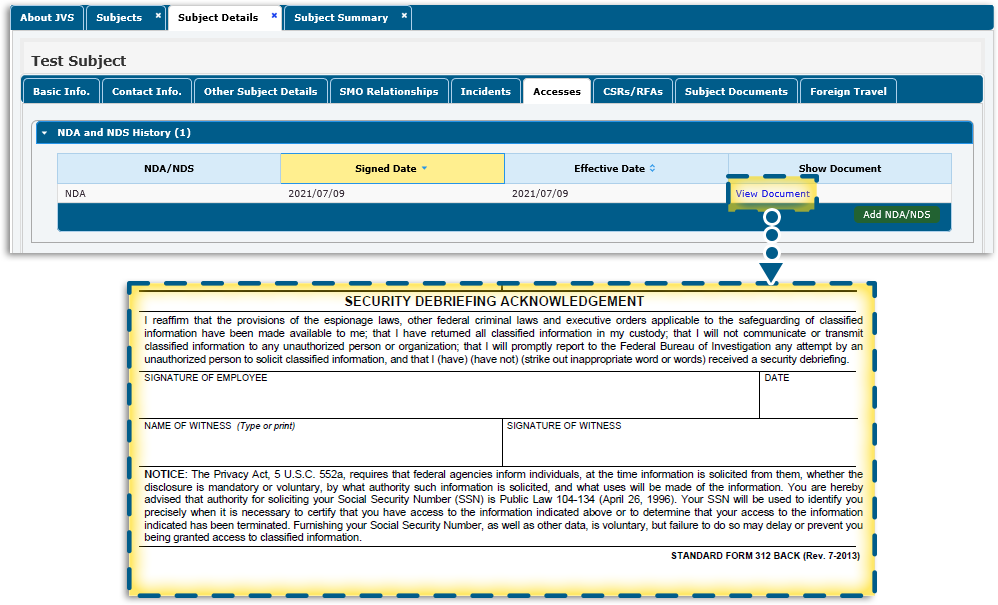 Why Do We Need an SF312 NDA?
The primary purpose of the SF312 NDA is to protect sensitive information from being released without authorization.
By signing this agreement, both parties are agreeing to uphold the confidentiality agreement and avoid disclosing any confidential information they may come into contact with during their work with the United States government.
In addition, this agreement provides legal recourse for any party whose confidential information has been shared without permission.
How Can We Use an SF312 NDA?
When creating an SF312 classified information nondisclosure agreement, you can customize it according to your specific needs.
Generally speaking, this document should include a list of all parties involved in the agreement; a description of what type of confidential information must be protected; and a list of restrictions on how this information should be handled (e.g., no sharing with unauthorized third parties).
Additionally, each party should sign and date the document in order for it to become legally binding. Digital signatures and dates are common in today's digital age. But if the signer decides to physically sign the SF312 forms, it will be scanned into the agencies database.
Did The United States Government Create The SF312?
The SF312, also known as the "Classified Information Nondisclosure Agreement," is a crucial document in the world of government security clearances. However, many people may not know who exactly created this agreement.
The SF312 was developed by the National Security Agency, or NSA, in collaboration with other government agencies.
This agreement serves as a way to ensure that those who gain access to classified information understand their responsibilities, and the potential consequences if they were to disclose sensitive information without authorization.
Though it may seem like just another bureaucratic form to fill out, the SF-312 is an essential tool in protecting our nation's secrets.
Where To Find SF312 Forms? Official Websites You Can Get A Standard SF312 Form On!
You can find a standard form of the SF312 on the U.S. General Services Administration (GSA) website. You can also find it on other gov websites like the Director of National Intelligence or the U.S. Department of Commerce.
These official websites do regular updates to their standard forms. Make sure you've reviewed and revised the forms to meet your specific needs or the needs of any official government organization you're working with. You can research any new regulations on the Federal Register.
Do You Need Managed Security Services For Your Business?
We know that sometimes it's hard to turn a business on your own.
If you have concerns about how secure your company is, reach out to us at Global Solutions. The advances of security in the last few years is hard to keep up with.
Our team of experts analysis and keep up with any new security measure that the United State Government has determined necessary. We can make it possible for your team to share sensitive information in safe manor and provide any training necessary to keep our country safe.
Don't search anymore, get it touch with us at Global Solutions so we can get started on keeping you safely connected!
Services We Offer
DISS management
Visit Authorization Requests (VARs)
Customer Service Requests (CSRs)
Incident reports
Administration of all briefings to include but not limited to initial, annual, SF312s (NDAs) and debriefings
Conduct Self-Inspections Annually
DCSA Assessment preparation and attendance
NISS Guidance and package submission
Maintain personnel security files
Process initial and reinvestigations
e-QIP best practices
SF-86 reviews, comments & submission
Insider Threat Program Management
Public-trust processing
Conclusion
Filling out a SF312 form may seem daunting at first glance but its importance cannot be overstated.
Not only does this document help protect confidential materials from unauthorized access but also provides legal protection for those who are authorized to access such data sets – employers, contractors, employees included!
By understanding what this document requires from you and following its stipulations carefully, you can help ensure that no unwanted eyes ever see sensitive information meant only for authorized users' eyes.
So if you're ever asked to complete a SF312 form don't hesitate; take the time now so that you can reap its benefits later!
Related Articles